To: My loving community
From: Your loving community member
Mood: Mourning
Time: 5 o'clock in the Morning

Date: 4/30/19 Tuesday
Theme Song: "How Long Will They Mourn Me" by Tupac
Saying: "Give me my flowers while I can still smell them."
Hashtags: #RipCircleFoodStore, #TheAntiGentrificationMovement #50centBellPeppers #PutYourMoneyWhereYourMelaninIs #WCWM
Color: Green and Blues
Paper or Plastic: Both, double bag it please
Mourning Circle Food Store: Yet, Another Wake Up Call
. . .
It's not just hotels that create problems for short-term rentals. Many residents of Miami Beach do not like being next to apartments that change tenants every few days. They complain about loud music, noise and rubbish making money with airbnb. Miami Beach police say complaints from residents have skyrocketed since Airbnb entered the marketplace. In 2013, there were only 600 of them, and in 2018 - already 1,700. It is after complaints from neighbors that city representatives most often find out that housing is illegally rented out in a house. Katerina Panova claims that many Russian-speakers circumvent the rules due to the fact that their neighbors do not report them: "Many people say that you need to communicate well with the concierge, give gifts, congratulate neighbors, do not complain about them. In general, be nice and nice - and everything will be fine. How to do it according to the law To become the legal owner of the right to rent out housing, you need to submit an application. This can be done quite simply online, and the license is not that expensive - a few hundred dollars.
Can I be transparent with y'all? I barely slept last night. I've been in a season of mourning. Personally, I have had some major changes in my life last year; starting with the loss of my father in January to the theft of most of my camera equipment in December. My livelihood has been significantly altered and on my quest for balance I am racing to catch up places where I've fell behind. I've bought some camera equipment back and started therapy to support my emotional and mental wellness, but still the past few months have been pretty tight financially.
TBH there were times I wanted to throw in the towel on my company. I was discouraged by not meeting my fundraising goal of only $6,000 and getting my things back seemed further away then close. Even with the graciousness of raising half of my goal (which is more than any of my film fundraising efforts), it felt like most of my community didn't quite have my back as strong as I thought they would.
I know that no one owes me anything and if I want something then I must work to get it. I also know that God always works things out as long as we are working on it. However, my vision for how community looks and feels, did not quite reflect onto me in my time of need.
I had to look beyond my own needs to recognize that some people just don't have extra money to donate. I've been there before; wanting to support but the most I could do is share a flyer. And even those small contributions can seem difficult when you aren't in a headstrong place.
Thanks to the support of my family, friends, and therapy, I have been learning and working through most of these obstacles. It is an everyday struggle but I give thanks for each new sunrise. Balance and financial freedom is on the horizon as I have made new commitments to myself to create the change I want to see in my own life. As I navigate through my life changes, I recognize the ways I have been affected by the changes in my community.
In New Orleans, we have recently suffered as a community with the knowledge of rape culture being protected by patriarchy within many of our immediate circles. Nationally and internationally, black people have shared the loss of an iconic La community leader being murdered in his neighborhood; the neighborhood where he invested in creating economic development, businesses, and jobs for his people. And here we are in a swift gentrification era in New Orleans where its becoming harder and harder for black people to create and grow sustainable black businesses. Let us reflect.
BLACK SPACE CLOSURES IN NEW ORLEANS WITHIN THE LAST 2 YEARS
1. Krewe du Brew Coffee Shop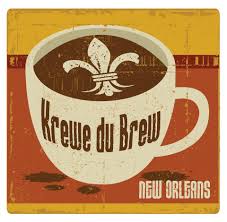 Located in the 1600 block of St. Charles Ave., Krewe du Brew was a quaint wood grained coffee shop with golden walls decorated with gorgeous local art and tables surrounded by familiar faces. My favorite coffee shop and the only Black owned business on St. Charles, (that I know of other than Hubbard Mansion), closed around this time last year. For me, it was like a morning ritual to be at Krewe du Brew; drinking coffee, writing, editing, holding meetings, playing board games, seeing everyday community folks...Krewe du Brew was the place to be.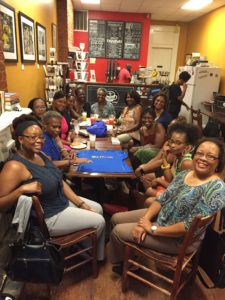 Krewe du Brew's owner, Eugene Anderson, said the main reason for closing his coffee shop was because he needed to spend more time with his family. What a grown man decision, right? Eugene has a beautiful wife and two small children. Running the coffee shop required more of his presence and took time away from his new and growing family members.
Family first is definitely the right way to go. Similarly, as we move forward, we should surely use this Eugene approved motto by supporting our local coffee shops and bypassing the bigger Starbucks chains as much as humanly possible.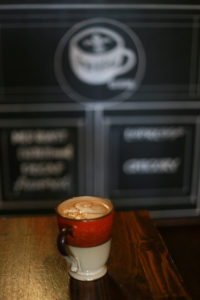 I can't help but to think that if Krewe du Brew was able to better sustain itself, Eugene would have been able to hire others to manage his shop and better balance his family time. Who knows, they could have even grown into a multi-location coffee shop. While that wasn't quite the story here, we still can remember the community vibe Krewe du Brew gave us and thank the Anderson's for the sacrifices and contributions they made. We miss you Krewe du Brew!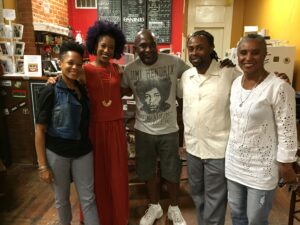 2. Blackstar Books & Caffe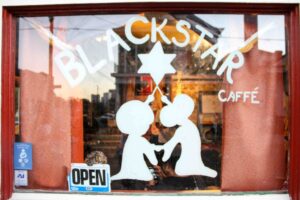 About two year ago, another Westbank coffee and sammich shop, Blackstar Books and Caffe, closed. However, owner, Baakir Tyehimba, says he still has plans of reopening. Blackstar closed due to repairs needed and the the owner of the building being ready to sell it. Baakir has been working towards raising the funds to do so. Currently, he still needs money for the purchase as well as necessary renovations. Maybe the reopen will be at the same location or maybe he will choose to relocate and start over again. If so, it wouldn't be the first time Blackstar took a two year intermission and relocated.
In 2011, Blackstar's first location closed after a year of being opened and two years later it reopened in at a new location. The new location had a very unique repurposed wood theme with afrocentric art, a revolutionary book collection and freedom music. Local musicians would gather at Blackstar to vibe, rehearse, and even some musicians have formed their world renowned bands from their Blackstar roots.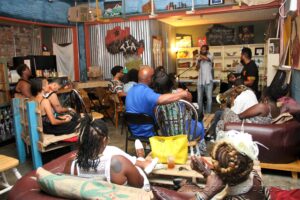 Throughout the week, Blackstar served their signature sammiches, coffees, and teas. Community members held meetings in this space. There was also a marketplace in the back called the Soko Mahali which sold merchandise from local artists and merchants. Late Sunday morning to early afternoon, you could find families dining at Blackstar for their vegan brunch pop ups. Sunday night was open mic event called Liberation Lounge. It featured a house band initially called the Blackstar Bangas, and later a new band called the Free Souls.
The Blackstar Bangas was the band that started Tarriona "Tank" Ball's official singing career. Eventually the Blackstar Bangas shifted members and soon become better known as The Bangas, from the internationally known Tank and the Bangas band. (Plug! Tank and the Bangas's album titled "Green Balloon" just dropped. Check it out.)
Like many Eastbankers, going to the Westbank isn't the most advertising location for an event. Blackstar was located in Old Algiers, a historic part of New Orleans located right off of the crescent city connection. Still this unapologetically black space didn't get the consistent support it needed in order to flourish.
As we await the determination of the space's reopening, let us consider the importance of black spaces in the city and work together more transparently to sustain them.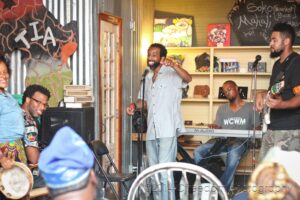 3. Craige Cultural Center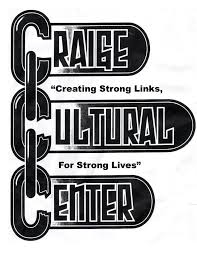 Another Old Algiers treasure was lost last year. Craige Cultural Center, located near Blackstar on Newton St. was founded by the late Dr. Thomas Craige and originally called the Craige Chiropractor Center. When Dr. Craige passed, his wife, Loyce V. Craige, renamed it the Craige Professional Building as it was no longer used for chiropractor services but more for community services. The building was later passed down to their children and in 2004, they renamed it Craige Cultural Center, in honor of their parent's commitment to community and culture.
Craige Cultural Center provided many programs (mostly free) to the community. Some of the programs included Mardi Gras Indian suit beading classes, cooking classes, GED prep class, computer classes, Know Your Rights seminars, mini health fairs, free breakfast programs, Undoing Racism trainings and more. The focal point of the center was certainly on community empowerment.
While these programs didn't quite help to pay the bills, the Craige's worked to promote their t-shirt printing company and space rentals. One of their most patronized event rentals soon became repasses. Craige Cultural Arts Center offered an affordable community space for the family and friends of deceased community members to gather in celebration of their life.
Other ways they generated money was through occasionally sell fish plates. Still it was not an easy task to manage the sustainability of the space. Soon, the Craige's fell behind on their building payments and unfortunately their property went up for foreclosure.
Vince Craige, co-owner of CCC says the property was put on auction and purchased illegally, after they complied with what they needed to do to save the space. He says the mortgage lender refused their payments. Vince was being advised by two "brothers" in our immediate community, and he believes they intentionally set it up for the space to be sold instead of doing what they said they would and could do.
One of the involved parties highly recommended his lawyer. This highly recommended lawyer file the wrong paperwork twice. This lead to the building being sold even after he told Vince he had stopped the sell. The party who recommended the scandalous lawyer didn't even offer an apology or check in with Vince after he caused them to lose the building.
Vince is determined to get justice in the situation and he also wants to expose those who violated his and the communities trust.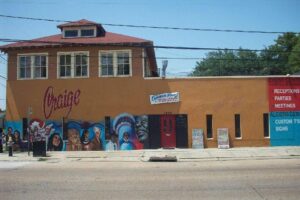 Craige Cultural Center was certainly a staple in the Algiers New Orleans community. It will be missed. Ironically, this space was purchased by black woman property developer. I'm not too sure what she plans to do with the space but she is nearing the completion of a complete renovation. Not too long ago, they painted over the long standing Craige Cultural Center logo and mural paintings that used to decorate the building.
You don't have to be a Craige to know how heavy this is for the family. We keep the Craige family lifting up and hope that justice is served. Even if not in that same building, maybe one day we will see the Craige Cultural Center standing strong in our community once again.
What happened to the Craige Cultural City is a very unfortunate story. We work hard to trust each other and still are faced with untrustworthy people in our own community. While we know that everyone is not worthy of our trust, we must be committed to building trustworthy communities with morals. We must hold each other accountable and protect ourselves and others from such violations.
4. Charlie Boy Nola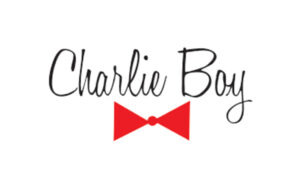 Charlie Boy was a men's consignment shop located in Central City on the corner of Oretha Castle Haley and Josephine St. The building used to house a barbershop. In 2012, New Orleans native Zaneta Flowers, opened Charlie Boy in honor of her father and in celebration of Black men dressing in style.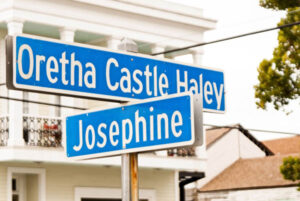 Whether you needed a suit for a job interview or some vintage street clothing, Charlie Boy was the place to go for inexpensive stylish brands. Local brands, including WCWM and Blk Light, sold there merchandise here. You could even purchase local artist work and attend community events at the space.
A sister opening a men's consignment shop?! How cool is that. What a way to show black men that they are loved, right? Well, if only the love could have been reciprocated with a little more consistent support for the business, maybe this space could still be opened. Unfortunately, Charlie Boy closed late 2018.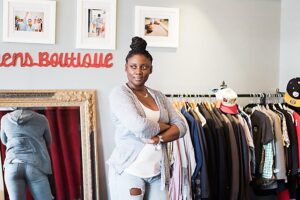 5. Dreamy Weenies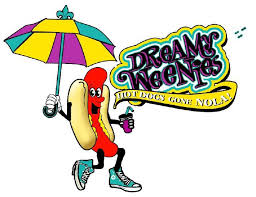 Located in the French Quarter Treme area, directly across from the Armstrong arch at Louis Armstrong Park was a unique hotdog shop called Dreamy Weenies. Hot Dogs Gone Nola was the slogan. Their New Orleans and creole style toppings, (succotash, red beans, etc), their hot dog options (beef, halal, and vegan), waffle fries or sweet potato fries with drizzle sauce were like no other.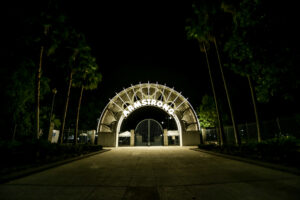 Dreamy Weenies was started by two New Orleans men who intentionally positioned themselves in the French Quarters to tap into the tourist economy. Not many of us can afford to swing French Quarter rent, or even benefit from living in a tourist city. For five years they pulled it off, but in an increasingly gentrified city, the landlord raising the rent, sometimes even double, can cause the business to fold.
On July 29, 2017 Dreamy Weenies served the community their last hot dogs. For many of us, it came as an abrupt surprise. However, we kind of know how it goes in New Orleans. Though I look forward to the day that us knowing how it goes, gets us ahead of the game so we can prevent things like this from happening again and again.
6. Golden Feather Mardi Gras Indian Restaurant Gallery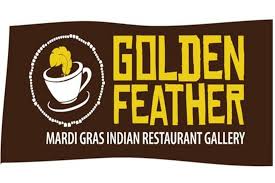 Neighbor to Dreamie Weenies, (even shared the same landlord), was Golden Feather Mardi Gras Indian Restaurant Gallery. Established by Shaka and Na'imah Zulu, Golden Feather was located in the 700 block of N. Rampart, across the street from the Congo Square entrance of Louis Armstrong Park. In Treme, French Quarter area, a tourist destination and local gathering space, restaurant, and gallery, Golden Feather was rich in history and stories of the Mardi Gras Indians.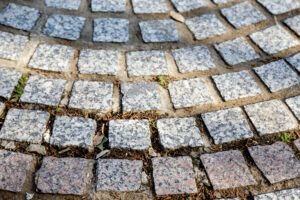 The gallery was decorated with Mardi Gras Indian suits and photography. The restaurant was more of a vegan cuisine pop-up. The space was mainly used for Mardi Gras Indian meetings and cultural events. I had the pleasure of renting the space for two events; last time was in 2017. We used it for our production office as we were shooting our short film across the street in Congo Square.
Golden Feather closed this year due to the landlord doubling the rent. As culture bearers in the city of New Orleans, spaces like Golden Feather, which was preserving our righteous presence in the oldest black neighborhood in America, should not be lost due to landlords doubling rent or due to outsiders being able to afford double the rent of locals. We must bring our minds, hearts, dollars, and power together to fight against this modern day segragation.
7. Circle Food Store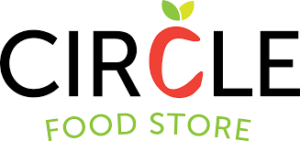 As a child, I vaguely remember my mom taking my siblings and I uniform shopping at
Circle Food Store
. My parents, (and maybe my older siblings), have more vivid memories of Circle when it used to be a "one stop shop" for all of the black communities shopping needs. Home of the 50 cent bell peppers. There was a pharmacy, a place to pay your bills, and even a bank inside of this store.
When Circle reopened in 2014, I was proud to finally shop at this place that many older generations took pride in. I would bring my son to the store with me so he could feel the goodness of supporting our own. Walking up the aisles of Circle felt like an old school bar room vibe (and I mean that in the most pleasant way). The music they played had you singing songs from aisle to aisle to cashier. Many of the cashiers and employees were even students I taught at a local high school in the neighborhood. Employing our youth is a priority of mine and for that I had much respect for Circle Food Store in our community.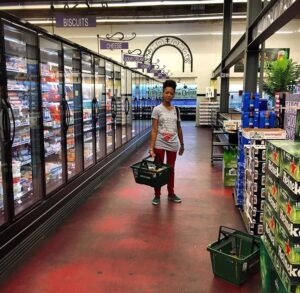 They didn't always have everything I needed, but I did my best to buy what they had and get others things elsewhere. Sometimes it was an extra step but a necessary move towards a necessary goal. I had my Circle grocery list, and my "other store" list.
I would leave suggestions in the suggestion box. Many of the suggestions ended up making it to the shelves...coconut oil, agave, vegan options, organic this and that. However, it was hard for a place surrounded by a community that doesn't eat organic to keep up with the costs of low demand goods. It was on us to make the demand higher.
If I asked for coconut oil, then it was my responsibility as a community member to make sure it doesn't just collect dust on the shelves. I'd even ask other community members to help to support the demand we want to see Circle supply. Unfortunately, it was a struggle that never quite reached its goal.
Circle Food Store inspired this writing and these reflections on spaces that we have lost in the black community. Losing Circle Food Store is one step closer what it would feel like if we lost Congo Square. Makes me wish we had a Circle Food Store Preservation Society like we have for Congo Square. Because, yes our historically black spaces are being challenged and snatched! And who are we to just sit back and mourn without taking action?! Who are we?
Circle has been a staple in the black New Orleans community for 80 years. Located on the corner of St. Bernard and Claiborne Ave, in the 7th ward, (the ward that received the least investments since Hurricane Katrina), it has been a struggle for this historic store for most of its existence.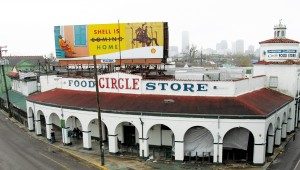 Circle has faced continuous economic blows, mostly manmade. Some of the main ones are: the building of an interstate (1966-1972) through the Claiborne corridor (what used to be like the Black Wall Street of New Orleans), flooding from the breaching of the levees after Hurricane Katrina (2005), and flooding at least twice (last time in 2017) since their 2014 re-opening due to of the city's poor drainage infrastructure.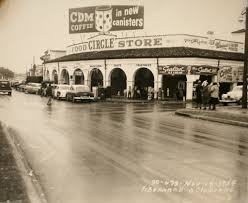 Historically, Circle Food Store was one of a few existing black owned grocery stores in the country. Surrounded by an impoverished community, it became increasingly difficult for the owner to sustain the building without going into more debt. Eventually, the owner reached out to community members for support.
The first person I saw pushing efforts of supporting Circle Food Store was Lamont Simmons of U.D.A. He hosted events at the historic store to get folks out spending money at Circle. He used the say "WE GOT YOU BOO!" to garner the support of the community in these efforts. Shortly after, Lamont connected my brother Jerry Brown with Circle Food Store owner, Dwayne Boudreaux. Jerry brought his business Dough to Dough, a pizza and donut shop, to Circle Food Store in 2017. This presented something new to the store and the community. With Dough to Dough's vegan options, it also brought new faces into the store as well.
True Love Movement also worked to raise community support for Circle Food Store. They hosted some community meetings with Dwayne asking him to share ways the community could help and also allowing the community to offer some innovative ideas of expanding Circle Food Store so it could maximize its potential. Mid-2018, True Love Movement hosted a pop-up event at Circle Food Store with local vendors and performances. Unfortunately, it was not well attended.
Even with all of these attempts, it could have just been too late for the amount of debt Circle Food Store was in. The flood of 2017 added yet another expense to the already existing debt. Circle finally closed their doors permanently in late 2018.
In my opinion, I believe the City of New Orleans should have done much more for Circle Food Store than it did. Maybe they could have covered the Entergy & Sewerage & Water bill for a year, provided resources for infrastructure renovations, and even an award to support them growing and competing with healthier food stores that most people choose over Circle. After all, the City of New Orleans was responsible for most of the hardship the store struggled with. Circle Food Store deserves some form of reparations for the continuous flooding of the city and the years of struggle during the building the interstate.
However, I will not solely leave it up to the City of New Orleans or outsiders to reinvest, support, and sustain our business in our community. It is up to us! Whether it is about education on how to manage, market, and grow businesses or it is education on why we need to create, support, and maintain our own, then this is the direction I would like to see our work grow.
Sure it is also a necessary step for us to challenge and demand what is rightfully ours. We can boycott the spaces that outsiders take from us. We could simply challenge and demand that it works for our community. We can go to city council meetings and demand that City of New Orleans do more for local black folks. We can also support the organizations and entities that are invested in this work.
WCWM: Who's Coming With Me has always been about us being the solutions to our own problems. We may need to demand from others some days, but we must demand from ourselves everyday! There is no time to take off from the mission of black empowerment. Black youth should grow up knowing the importance of supporting and creating their own. There are no businesses needed in our community that don't re-invest into our community.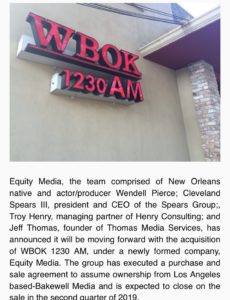 Just days before hearing the sad new of Circle Food Store being sold, we received the exciting news that four black men came together to form a new company and bought WBOK. The former owner of WBOK is a New Orleans native who moved away and found that maintaining the radio station was more difficult to do while living so far away. He made a conscious commitment to sell it to someone from the New Orleans community. Unity would have it that the combined economic power of four New Orleans brothers made it possible for us to maintain this necessary avenue for black media and commentary. Somehow, I imagined something similar happening with Circle Food Store. But least than a week after this great news, came the news that Sidney Torres and "a partner" purchased Circle Food Store for $1.7 million dollars.
This is when I realized all of the consecutive mourning that I had been going through. Subconsiously, it allowed me to reflect on how we can do better together. It also allowed me to reflect on how we must do better individually. Then it brought me to the thought that if we did better for each other then each other would do better. It's the reciprocity of unity. Together we are better.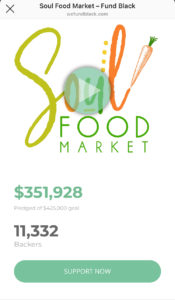 Currently, a national business called "We Buy Black" is crowdfunding to open the first Black owned grocery store chain called Soul Foods. While I'm excited and an avid We Buy Black supporter, I can't help but to think about what it would have been like if Circle Food Store had grown into a chain, or even if Soul Foods could have bought Circle Food Store. At least that would have been better than a gentrification flipping trash man who cares nothing about the communities he flips upside down into his trash binds.
As I openly reflect, I am intentionally using this as a tool of practicing transparency within our community. Instead of being ashamed of judgement when we aren't at our best, I think its important to share when we need support. If we silence our troubles, then we can count on the number of community losses increasing and the fingers being pointed everywhere except to the culture of silence that we help to perpetuate. We've got work to do!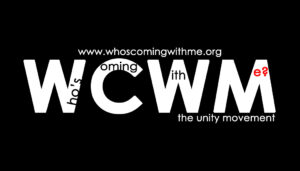 Join WCWM & the Black New Orleans community for a transparent conversation on ways we can come together to heal, grow, and sustain our spaces, businesses, and community. Hosted at the Tombar Life Center, and as a part of a call to action for their space, the schedule will be as followed:
5:45-6pm | "Early" The New CP Time (meet at Circle Food Store or Tombar Life Center but at Circle no later than 6 for the group shot)
6-6:30pm | Group Shot at Circle Food Store (diagonal from Tombar Life Center)
6:30-7pm | Meet & Greet & Eat (first come first serve food)
7-8pm | Remembering & Preserving Black Spaces in New Orleans (Call to Action for Tombar Life Center)
8-9pm | Solutions: ideas from the community and personal finance presentations by Budget Queen 4 U and TLC Elevate
Fats
They help the body absorb vitamins A, D, and E. Fatty acids are divided into three groups: saturated, unsaturated, and trans fats.
Saturated fat won't harm you as long as you don't exceed your calorie intake. However, trans fats should be avoided 5-lmthf as they increase the risk of heart disease. There are many of these substances in cakes, biscuits and bread.
Unsaturated fats are involved in the construction of new cells, hormone production, and water metabolism. Some fatty acids, such as omega-3 and omega-6, are not synthesized by the body. We can only get them from food. These are found in avocados, olives, olive oil, nuts, sea fish.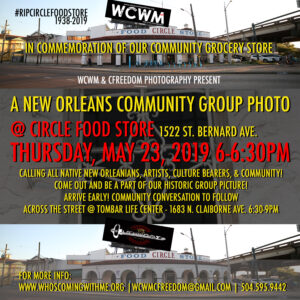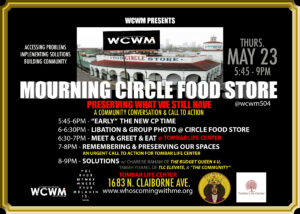 BECOME A WCWM MEMBER TODAY!
Thanks for your time and support! Leave a comment and let us know your thoughts on these topics.
One Love,
Cfreedom