EACH MONTH WCWM: WHO'S COMING WITH ME FEATURES A SELECTED BLACK ARTIST, BUSINESS, AND YOUTH IN A SPOTLIGHT TO RAISE COMMUNITY AWARENESS AND SUPPORT. PLEASE TAKE SOME TIME TO LEARN ABOUT THESE WONDERFUL PEOPLE AND THE WORK THEY ARE DOING IN NEW ORLEANS AND BEYOND. SUPPORT THEIR EFFORTS IN WHICHEVER WAYS POSSIBLE. THANKS IN ADVANCE FOR SUPPORTING BLACK ARTISTS, BUSINESSES, AND YOUTH IN NEW ORLEANS.
WCWM FEATURES | AUG 2018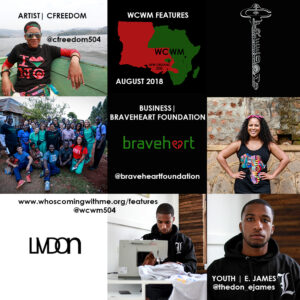 ARTIST | CFREEDOM
ARTIST
ACTIVIST
EDUCATOR
ENTREPRENEUR
FILMMAKER
@cfreedom504
WCWM FEATURES ARTIST CFREEDOM
Cfreedom is a New Orleans visual and performing artist on a mission of bringing back positive images and music. Cfreedom is a mother, an activist, entrepreneur, and educator. She describes herself as "a New Orleans international queen yeyo artist, activist, entrepreneur, educator, and filmmaker who is kicking in the door for other Black women and girls to come through too." She uses relationship building and economic empowerment as a tool towards reducing violence and increasing love in her city.
In 2006, Cfreedom was connected to Ashe Cultural Arts Center, where she formed a close relationship to art, community, and culture. Through Ashe, she became a photographer, was encouraged to begin performing her poetry, and music. The relationships she nurtured from Ashe helped to propel her freelance photography career and opened opportunities for her to photograph many local festivals, concerts, and community events.
By 2009, Cfreedom became a contributing photographer to Essence Magazine. Soon after, she founded The Essence of N.O.W., a photography party that celebrates, features, and archives New Orleans women. By 2010, she was able to add international to her poet and photographer titles as she performed in a series of poetry showcases in St. Lucia and captured the majestic beauty of one of her, now, favorite places away from home.
It wasn't long before her community work and organizing was recognized nationally. In 2013, she was nominated to be one of 100 Black youth activists to come together to meet for a weekend and build new possibilities. In 2014, Cfreedom founded the first BYP100 chapter in the South, BYP100 Nola.
Cfreedom is an educator; co-director of Amaru Come-Unity Homeschool, an entrepreneur; owner of Cfreedom Photography, a photography and film production company and WCWM: Who's Coming With Me, a unity movement dedicated to supporting Black artists, businesses, and youth in New Orleans. In 2015 and 2016, the Nola Music Awards nominated her "Ambassador of the Year".
Currently, Cfreedom is vigorously pursuing her filmmaking career. After directing several documentaries and music videos, she is finally producing her first short film, called The Essence of N.O.W.: A Short Film scheduled to be released in late 2018 during the 300th anniversary of New Orleans.
BUSINESS | BRAVEHEART FOUNDATION
NON-PROFIT, HUMANITARIAN AID
@braveheartfoundation
WCWM FEATURES BUSINESS BRAVEHEART FOUNDATION
Braveheart Foundation is a nurse-driven non-profit, humanitarian aid organization. Their primary focus is to reach out in love and provide resources needed for the spiritual and healthcare development in communities, locally and around the world. The public problem that the foundation is working on globally is prevention, assessment, and treatment of major health disparities in the desolate villages of Uganda, Africa.
Braveheart was founded in 2014 by the 34-year-old native of Laplace, Louisiana and a Southern University graduate, Erica Rogers. Erica, a 10-year tenured registered nurse specializing in Cardiac Critical Care, started her career in Houston Texas as an oncology ICU nurse at MD Anderson Cancer Center where she served 2 years with the world-renowned cancer center. She found her love for cardiac critical care medicine at Memorial Herman Heart and Vascular Institute in Houston, Texas, where she served for 6 years. She then served 3 years in the cardiac ICU at Ochsner in New Orleans, Louisiana.
Erica says, "The building and branding of Braveheart Foundation illustrate the "Power of Nursing" and with that comes a genuine passion for humanity, but more specifically, it pertains to my continued efforts inpatient and community activism. In my travels to Uganda or stepping right next door in my community I humbly serve as an ambassador for change."
In July 2018, Braveheart successfully completed their fourth and mission trip to Uganda where they were able to provide those same dental, vision, medical, and lab services, except this time they had an even bigger team of healthcare volunteers. With the support of about twenty U.S. nurses and five Uganda doctors, they set up six pop-up medical clinics across the country, servicing over 1,5oo people. In total Braveheart has treated over 8,500 people during the trajectory of the 4-year development of the organization.
Erica's career dream is to evolve as an expert missionary nurse and expand heart disease awareness in my community and facilitate the opening of a
Braveheart
Mission hospital and Clinic in Uganda. Her passion is to help others achieve their purpose and calling in mission work as she has.
WCWM FEATURES YOUTH E. JAMES THE DON
FASHION DESIGNER
SEAMSTRESS
ENTREPRENEUR
CEO
@thedon_ejames
WCWM FEATURES YOUTH E. JAMES THE DON
E. James is the 18-year-old designer and CEO of LIVDON, a creative influential brand located at Lot 1701 (1701 Oretha Castle Haley Blvd.). Founded in 2015, E. James, a self-taught designer, started LIVDON as a graphic t-shirt brand and gradually the brand made its way to a more expansive brand specializing in cut and sew pieces, which are hand-crafted by Eric James himself.
The New Orleans based brand is still growing day by day, while the young man is steady coming up with new innovative pieces and styles. It's only been 3 sizzling hot New Orleans summers, 2 Xavier University fashion shows, and 1 quaint cottage style fashion boutique later and E. James has managed to land himself in Missy Elliot's hotel room applying alterations to the Supa Fly MC and her dancer's Essence Music Festival wardrobes. Of course, he had his right-hand man, by his side to take in the whole magical experience with him.
E. James is a young self-determinate youth with a bright future ahead of him. He shared a few of his fashion inspiration, including Virgil Abloh, artistic director of Louis Vuitton menswear; Jerry Lorenzo, a fashion and sneaker designer of street gear brand Fear God; and Heron Preston, designer and CEO of HPC Trading Co. E. James is moving with the momentum to propel himself into an even greater fashion career than many of the creatives he is inspired by. He describes LIVDON, (Living Like A Don), as versatile, vibrant, and visually-outstanding. We couldn't agree more with this young, gifted, and black creative.
WCWM FEATURES | JUNE 2018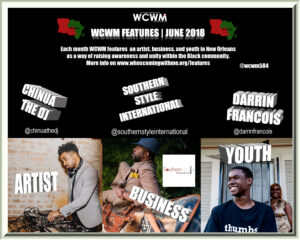 WCWM FEATURED ARTIST | CHINUA THE DJ
It didn't take us very long to consider CHINUA THE DJ one of my favorite Djs. From the first time hearing him play and maybe his third selection, we know he was our type of hype. His mix of timeless jams and great energy makes him the one you want to handle the vibes of your any given event.
We've had the pleasure of checking out more of Chinua's work at events and we're very impressed with one of his collaborative events, Ascendance. Chinua is one of a six piece collective that makes up this amazing celestial space of elevation vibrations for people of color. While everyone is welcome, this space is people of color, lgbtq, and gender non-conforming centered. Celebrating each zodiac sign, Ascendance is a monthly event hosted at Cafe Istanbul 11pm.
Follow @chinuathedj for more info and click the tab below to vibe to some of his SoundCloud mixes. Thank you Chinua the Dj for the great vibes.
Photo by : Cozmo Black
WCWM FEATURED BUSINESS | SOUTHERN STYLE INTERNATIONAL
Southern Style International was founded in 2013 by native New Orleans fashion/wardrobe stylist, Torrence L. Taylor. Since then, he has premiered several fashion shows and showcases. Torrence has had the honor of styling many artist from singers to poets etc. His approach to style is taken from his study of Black History predominantly the black man's style.
Torrence's motto as a fashion/wardrobe stylist is "HE DOESN'T CHANGE PEOPLE, HE EXPANDS THEM". He's not a celebrity stylist, he's a stylist to the STARS. Because everyone should SHINE. He is most notable from his mission work to help change the negative images of the BLACK MALE with his project "NOLA NOBLES".
Follow @southernstyleinternational and @thenolanobles for more info about upcoming events.
Photo by : Cfreedom Photography
WCWM FEATURED YOUTH | DARRIN FRANCOIS
Whether you are from New Orleans, New Jersey, or anywhere across the country, you might have heard of the young man that received 83 scholarships. A meme of his accomplishments went viral, and many of us from New Orleans were surprised to find out it was a young man from International School of New Orleans. This young man is Darrin Francois.
Currently, Darrin has 91 scholarships and he made his choice to attend Tuskegee University with a full scholarship.He plans to major in Political Science because he says he wants to work to make change happen in his community. Since meeting Darrin aka Mr. 91, I have found him to be a very outgoing open minded young man. He has taken it upon himself to connect with several change makers in the city.
Darrin's birthday is June 16th and we are challenging 91 community members to show him some love by sending him scholarship love in his Cash App on his birthday. We just love for our youth to know how it feels to have their whole community rooting for them.
Congratulation Mr. 91 by clicking the link below!
MAY 2018 | WCWM FEATURES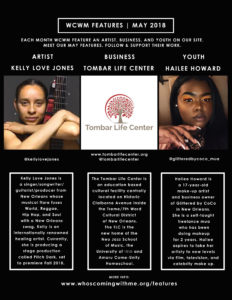 WCWM FEATURED ARTIST | KELLY LOVE JONES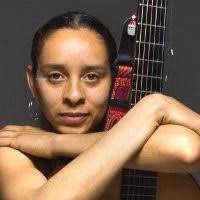 WCWM FEATURED BUSINESS | TOMBAR LIFE CENTER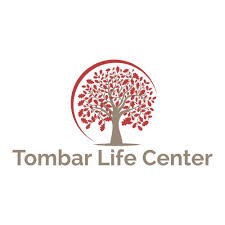 WCWM FEATURED YOUTH | HAILEE HOWARD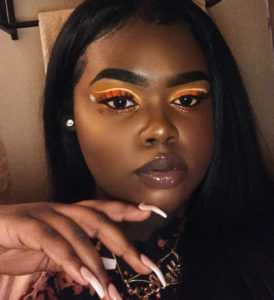 JANUARY 2018 | WCWM FEATURES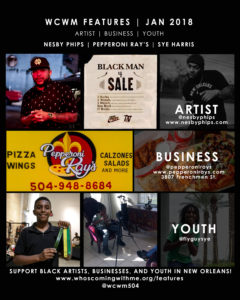 WCWM FEATURED ARTIST | NESBY PHIPS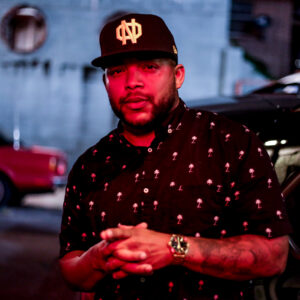 WCWM FEATURED BUSINESS | PEPPERONI RAY'S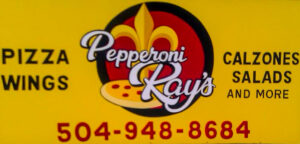 WCWM FEATURED YOUTH | SYE HARRIS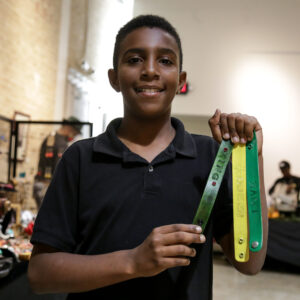 DECEMBER 2017 | WCWM FEATURES

WCWM FEATURED ARTIST : PJ MORTON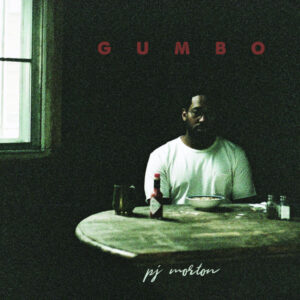 PJ Morton is a New Orleans native, musician, composer, singer-songwriter, author and recording producer. The son of gospel singer, Paul Morton, Sr., PJ's first words were most likely "do-re-mi" because music has been a part of his entire life story. From growing up in the church singing in choirs to pursuing his own music career separate from his father, PJ was destined for music success.
In the early 2000's, PJ was a part of an R&B music group called, Freestyle Nation, releasing their 2002 album titled "free-versation". 2002 was the same year PJ won a Grammy as songwriter for India Arie's song titled, "Interested". By 2005, PJ released his debut solo album titled "Emotions", which features an revamped version of the classic Freestyle Nation hit, "How We Were". Five years later, in 2010, he released his sophomore album titled "Walk Alone". He also auditioned with friend Adam Levine, to become the keyboard and additional vocalist for the well-known Pop/Rock Band, Maroon 5 in 2010. By 2012, PJ had become the full-time keyboardist and background vocalist for Maroon 5.
PJ was signed to Young Money in 2011 by New Orleans native Mack Maine. In 2012, PJ released his debut EP under the Young Money label and in 2013, he released his Young Money debut solo album, titled "New Orleans", which hosted the Grammy nominated single "Only One" which features the legendary, Stevie Wonder.
After living in different cities for several years, in 2015, PJ move back to his hometown, New Orleans as an independent artist. Determined to more intentionally work with and support more New Orleans artists, PJ founded his new company Morton Records. In 2016, PJ released his bounce mixtape, "Bounce & Soul: Volume 1" under his new company, Morton Records and featured many New Orleans greats such as DJ Raj Smoove, Mannie Fresh, Dee-1, 5th Ward Weebie, Cheeky Black and more.
In 2017, PJ released his fourth studio album and first self-released album titled, "Gumbo" which has gotten him yet another two Grammy nominations, one for Best R&B album and another for the single "First Began". In November, he was featured on RevoltTV Lifestyle with a documentary about his life. Fresh off the "Rebel x Soul x Saint Tour" with Kirk Franklin and New Orleans' own, Ledisi and PJ is back home to put on for his city. Every Tuesday night in the month of December, he will be performing in concert at Blue Nile. In addition, he is back to host his monthly music showcase called "SoundBytes" which provides a quality platform for various musicians, singers, and spoken word artists to come together for a "Jam Session".
From the cinematographers to the photographers, PJ Morton has been representing and showing love for his city all around the world. He has writing songs for several artists including Monica, LL Cool J, Jermaine Dupri, Heather Headley and more.
We are proud to feature PJ Morton as our WCWM Featured Artist of the Month of December because PJ represents many of the qualities that we work to support within the New Orleans community. PJ is a New Orleans native, a husband, a father, a man with a big heart, iconic vocals, magical fingers, positive spirit, and we just love the way he gives back to the New Orleans artists community. To support PJ is to make it possible for many more New Orleans artists to be supported. We salute you PJ, our New Orleans Stevie Wonder.
WCWM FEATURED BUSINESS : CHARLIE BOY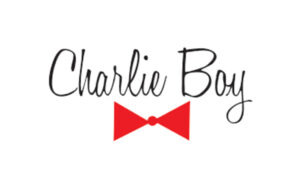 Charlie Boy is a modern resale store that specialized in designer menswear. They cater to all genres; from the authentically classic to modern sophisticate. In addition to partnering with outreach programs throughout the city of New Orleans, they also offer affordable designer names for the more sensible professional. They even host several charities, fashion, and community events. Located on the corner of Josephine St. and Oretha Castle Haley Blvd. at 2043 Oretha Castle Haley Blvd., Charlie Boy is open from Thursday - Saturday 10a-6p and by appointment on Sunday and Monday. Be sure to pay Charlie Boy a visit and make some stylish purchases for yourself or the special brothers in your life or even book the space for your intimate community or private events. Follow Charlie Boy @CharlieBoyNola and visit www.charlieboynola.com
WCWM FEATURED YOUTH : CHLOE MABERRY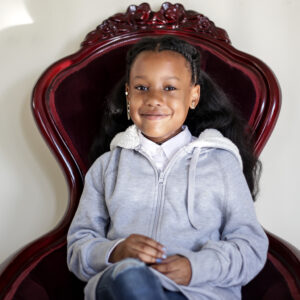 Chloe Maberry is a nine-year old singer, songwriter, dancer, and gymnast. Born into a family of at least three generations of singers, Chloe and her parents first discovered her talent at three years old. She has performed theater in the stage play, Cats on the Roof, directed by Tommye Myrick at the Anthony Bean Center and is auditioning for a role in an upcoming short film.
Chloe is currently studying music, vocals, and contemporary dance at Ellis Marsalis Center, with additional music studies at the Neo Jazz Soul of Music. She is a homeschool student at Amaru Come-Unity Homeschool and has been working on her first album that includes collaborations with her mother, Alayna Miche.
Chloe's powerful and prolific vocals combined with her winning personality is a guaranteed golden ticket to success and happiness. She is an articulate young prodigy who looks forward to sharing the positive messages that her father have shared with her, in addition to sharing her gifts with large audiences . Moreover, she desires to be an entrepreneur continuing the work of her families company, One Berry LLC.
Chloe's favorite three musicians are Mali Music, PJ Morton and Brandi. Her pure and authentic #BlackGirlMagic made it a must that we have her as our WCWM Featured Youth of the month. We also thought it would be great to feature her along with one of her favorite music artists, PJ Morton. New Orleans and World, keep your eyes and ears open for the young, talented, and determined, Chloe Maberry. She is a New Orleans youth destined for greatness, especially with the support of her community.
AUGUST 2017 | WCWM FEATURES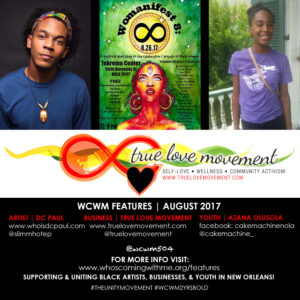 WCWM FEATURED ARTIST : DC PAUL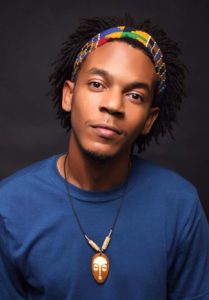 DC is a millennial actor, comedian, host, creative writer, and performance artist born and raised in New Orleans. A former student of the NOCCA and Columbia Arts College, DC talents have been showcased on various stages, screens, microphones, and publications around the country since the late 1900's, but began his career as a standup comedian in 2014. A year later he was invited to joined Young Funny, a krewe of standup comics founded by the late Jon Reaux. Since then, DC's comedic talents have been displayed at historic performance venues such as the House of Blues, The Carver Theater, and Tipitina's, as well as on local radio, television, and live showcases. He's a frequent host of live events, as he cultivates a fun and friendly environment, even when heavyhearted subject matter is involved. His style of comedy relies heavily on pop culture observations, sociopolitical punchlines, life experiences, and witty wordplay.
In 2016, DC and his business partner India Mack created TheMisbelief brand as a platform to highlight local black millennials, our talents, and our interests. TheMisbelief began using a late night TV show format in April 2016, and at the recording of the pilot episode, TheMisbelief Punch was born. DC had created a rum cocktail mimicking the flavor of the loquat, and it quickly became a citywide hit. After the tv show idea fell through, DC began using TheMisbelief Punch as a tool to keep the brand name alive while he and India regrouped. DC continued using the Punch to attract people to events around the city, like "Blaze & Worship," a gospel brunch for a very specific audience. In 2017, TheMisbelief reemerged as a late night radio show on WBOK, a podcast, and a YouTube channel still showcasing black millennials around the city, but now across several media platforms.
You can catch DC hosting, MC'ing, joking, and using his velvety voice in some way almost every night at a different location in New Orleans, but most notably at The Jam with CoolNasty on Wednesday nights from 9pm-1am at New Orleans Jazz Market.
WCWM FEATURED BUSINESS : TRUE LOVE MOVEMENT

It is that time again! True Love Movement presents...Womanifest 8: Infinity for Black August. Womanifest 8 is 8.26.17 from 12-8pm at Tekrema Center for Art and Culture (5640 Burgundy St NOLA 70117).For those who know all about Womanifest, WE CAN'T WAIT! For those who do not know yet, Womanifest is an annual festival (this is the 8th one!) dedicated to the celebration and GROWTH of Black women. ALL are invited to take part in the celebration, to learn and heal through our community facilitated workshops, to listen to our phenomenal keynote speaker, to enjoy the gifts and talents of our performers and to spend money with our Black women owned/operated entrepreneurs/vendors. Take some time to celebrate ourselves, our mamas, our sistahs, our partners, our daughters, our friends! Womanifest is a celebration of the power of the Black Woman + Manifesting her dreams! Woman + Manifest? Womanifest!Why Infinity? Infinity is unlimited extent of time, space, or quantity. NO LIMIT! Let us all see Womanifest find it's place in the unlimited!Be there and please share! For more info on True Love Movement or Womanifest visit www.truelovemovement.com and follow them on instagram and facebook @truelovemovement.
WCWM FEATURED YOUTH : AZANA OLUSOLA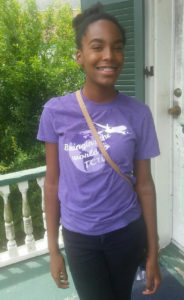 Azana is the daughter of Backyard Gardners Network founder, Jenga Mwendo. Azana is currently raising money for a trip to London to expand her visual art and photography skills. She is selling cupcakes once a month at the ReFresh Market in front of Whole Foods. She has been baking for about two years and has participated in two baking summer classes. Some of her products include red velvet & chocolate cupcakes, funfetti cake, cookies, and more. The prices are $2. Follow her on facebook www.facebook.com/cakemachinenola and instagram @cakemachine_
JULY 2017 | WCWM FEATURES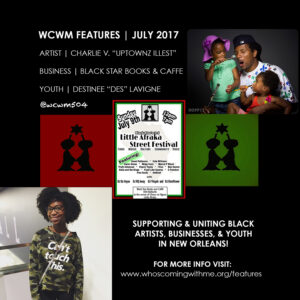 WCWM FEATURED ARTIST : CHARLIE V. "UPTOWNZ ILLEST"

As a native of the Uptown/Hollygrove area in New Orleans, Charlie was always fascinated by comic strips,cartoons & album covers at an early age. His parents kept he & his brother busy drawings. Charlie eventually developed a passion for art throughout his formative years in school. By the early 1980's ,HIP HOP would become the cultured "art form" that would change his outlook on life as he knew it.​​
​With a dose of street culture, improvisation & rhythm...taking cues from the East Coast b-boy imagery fused with a New Orleans vibe led him to create his own style of work.
Charlie V. is a visual artist and one of the most official hosts from New Orleans, with decades of experience hosting several interviews, tv and radio shows, as wells as festivals and events throughout the city. He is the co-founder of the legendary spoken word group called POZAZZ Productions, which was founded in 1998 and ran consistently until Hurricane Katrina, however still producing occasional shows til this day.
Charlie V. is a proud father and husband and the owner of
Uptown Artwerx
. He is also an educator working at Joseph S. Clark as an art instructor in addition to various other youth programs such as Models for Success. Charlie V. is an amazing artist and positive role model who has been putting in work in the artist and youth community. For more info on Charlie V. visit
www.uptownartwerx.com
WCWM FEATURED BUSINESS: BLACK STAR BOOKS & CAFFE

In 2010, along with my colleague and friend, Samori Camara, both born and raised in Algiers, a neighborhood located on the West Bank of the Mississippi River in New Orleans, we were blessed with the privilege of birthing BlackStar, a gift of life the community could rally around to nurture it as it cares for us. BlackStar Books and Caffe quickly became a lively space that serves lunch, coffee, and drinks, and also celebrates "Afrakan" culture through book discussions, movie screenings, and live music.
BlackStar has served as a consistent gathering hub and nourishing home for all walks of members of our community. It provides a safe space for community children to play and congregate. It serves as a space for strategy meetings, social gatherings, classes and workshops, performances, screenings, book clubs, and study groups as well as being a wonderful place to have a good lunch or early light supper. In our efforts to define our community as Little Afraka and usher in more businesses and institutions to support and sustain the people and culture, BlackStar has also been hosting small street festivals and celebrations that emphasize the values and joys of our community.
Currently Black Star is
fundraising
through
www.gofundme.com/blackstarnola
to secure the ownership of their community space. In addition, they are amping up for the 3rd Annual Little Afraka Street Festival happening on Saturday, July 9, 2017 12-7PM. Your support is essential.
WCWM FEATURED YOUTH : DESTINEE "DES" LAVIGNE

Destinee "Des" LaVigne is a 14 year old student of Lusher Charter School soon entering 9th grade. Destinee is a hardworking student and loving daughter in addition to being an avid fitness and health enthusiast! At Lusher, Destinee has excelled academically as a gifted student taking partial high school courses as a middle school student. Destinee also has a passion for dance. She has been a member of NORDC/NOBA's Pre-Professional Program, Lusher's Dance Ensemble and most recently a pre-professional student studying under local dance company, Good Dance Since 1984 which is owned/operated by Donna Crump. Destinee plans to continue to finely tune her skills as a pre-professional dancer and study Egyptology following high school.
In Spring 2018, Destinee is traveling to Paris and Loire Valley visiting sites such as The Louvre, Notre Dame and Mont St. Michel. Destinee will be taking this trip along with fellow Lusher students studying French as a foreign language. Destinee is looking forward to this awesome experience. If you would like to donate to a good cause for a wonderful child, please click the link below. Every little bit helps!
http://personal.eftours.com/secure/make-donation.aspx?poid=D39DA67B&utm_medium=web&utm_source=paxsecure&utm_campaign=fundraising
MARCH 2017 | WCWM FEATURES
WCWM FEATURED ARTIST: CAREN GREEN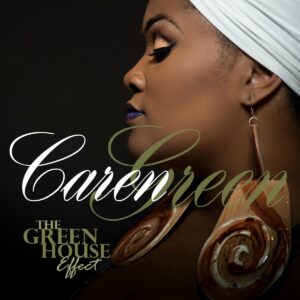 @iamcarengreen
Caren is a native New Orleanian who began singing in church at the age of four. She is a songwriter and story teller, among other things. She also has quite the unique story of her own that she often shares when mentoring, sharing spoken word, and public speaking.
Caren is a community activist and educator, concentrating on the broken educational system, and youth rights, special education, mental illness, and at risk youth. She is also a mother and a doula. She recent gave birth is to her debut album, The Green House Effect, released in January 2017 to a packed Jazz Market auditorium. Her first single, Air I Breathe, is truly a breath of fresh air. It is a timeless tale of a mother's love for her child. The video elegantly captures the emotions of the song.
When asked what her vision is for the future, she smiled and stated, " To Lift, To Empower, and to Encourage". Caren's message, to all she comes in contact with is "BE THE LIGHT!!!"
Follow Caren Green on instagram @iamcarengreen and visit her website at www.carengreen.com. THE GREEN HO-- -- USE EFFECT is available now on itunes, Amazon and Google Play!
WCWM FEATURED BUSINESS: SISTA MIDWIFE PRODUCTIONS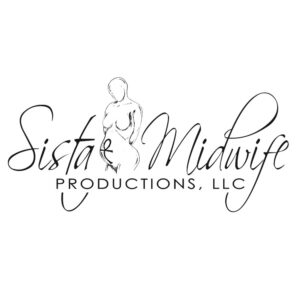 @sistamidwife
Sista Midwife Productions provides education and training through teleconferences, webinars, keynotes and live workshops. They work with pregnant women, doulas, families, birth workers, communities, advocates, and allies. They provide education with a unique insider's view that helps you navigate the medical obstetrical system. No matter where or how a woman plans to birth, their ultimate goal is to help her Birth Something Beautiful™
Sista Midwife Productions believes that Birth Is The Revolution. They have been hosting some very unique productions to honor this, as well as creating safe spaces for women and children. On Monday, March 6th they are launching a Black Mom's Breastfeeding Support Group that will be held at Black Star Books & Caffe (800 Belleville St.). On March 11, they will be hosting a production called "Our Births, Our Stories: Honoring the Histories of our Wombs" for 2pm at the Tombar Life Center 1683 N. Claiborne Ave. They will also be hosting a series of workshops this month in Dallas, Tx. For more info visit their site at www.sistamidwife.com
WCWM FEATURED YOUTH: SANIYA SULLIVAN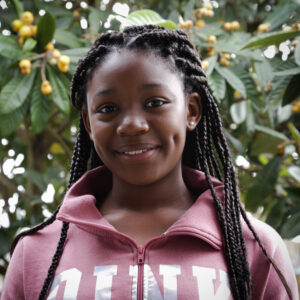 Saniya Sullivan (11) is a student at Amaru Come-Unity Homeschool. She is a dancer with "Good Dance Since 1984", a participate of True Love Movement's "Girls on Fiyah" program, a Rethinker at Rethink, and a Xavier University Girl Scout. Saniya has been dancing for four years. Some of the companies she has worked with are NORD, Lyon Cener, Treme Recreational Center and Morris Jeff Community. She also has experience in theater and has the potential to excel in anything she puts her mind to.
Saniya has great leadership and problem solving skills. Since transitioning from charter school to homeschool, Saniya has been making strides into a new direction and strengthening her self-esteem and self-determination. She is a very organized worker who takes initiative to go above and beyond, impressing her teachers and classmates.
Below you will find a brief interview we held with Saniya.
What has been your biggest accomplishment so far?
Being able to go to Amaru Come Unity Homeschool and also being able to perform with Good Dance Since 1984.
Who are your favorite dancers and singers?
I have four favorite dancers Misty Copeland, Donna Crump, Alex, Lyric McBride. My favorite singers are Beyoncé and Erykah Badu.
Do you have any mentors?
My mentors are my teachers at Amaru Homeschool. Their names are Christine Brown and Nicole Adams.
How are you making the world a better place?
I want to make a company right now that helps homeless people get back on their feet, meaning get them a nice house and bike or car. And a job because I see the way people treat homeless people and it just breaks my heart.
Where do you see yourself ten years from now?
When I get older I would like to go to college and get my Doctorate in Pharmacy. I would also like to open my own company called "Herbal Love "that uses alternative healing instead of using drugs that some other company made. I would make sure that the medicine is all natural and produced by me. Then I will pass this company on to my children and I hope they pass it on to their grandchildren and it will go on and on.
What do you want people to remember you by?
A kind girl who had her plans ahead of her and she fulfilled her goals because she was focused and wanted her dreams so bad that she would go after them with all she got.
FEBRUARY 2017 WCWM FEATURES

WCWM FEATURED ARTIST: CASME´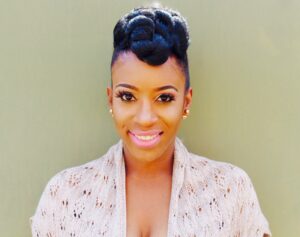 WCWM FEATURED BUSINESS: KEYS OF BEAUTY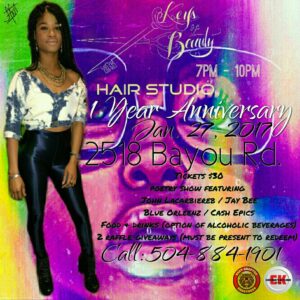 WCWM FEATURED YOUTH: THE DENT BROTHERS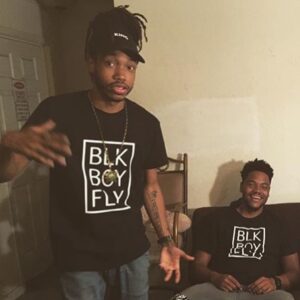 JANUARY 2017 WCWM FEATURES

DECEMBER 2016 WCWM FEATURES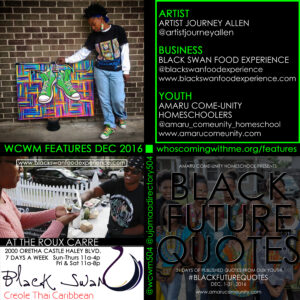 ---
WCWM FEATURED ARTIST: JOURNEY ALLEN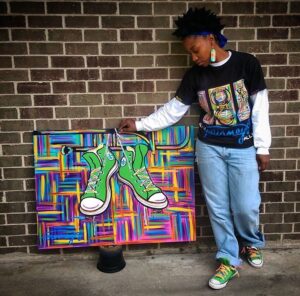 ---
WCWM FEATURED BUSINESS: BLACK SWAN FOOD EXPERIENCE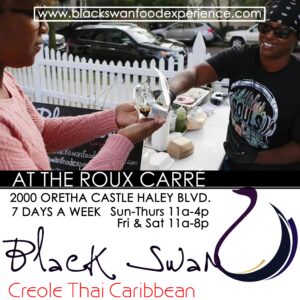 Black Swan is a pop-up restaurant that merges casual fine dining with street food culture. Our food is Creole, Thai, Caribbean-inspired, contemporary Soul food that honors tradition and creativity. We take great pride in highlighting the African and Native American influences on New Orleans cuisine.
Black Swan is excited to announce the opening of our first location on Thursday, December 1st at The Roux Carre, 2000 O.C. Haley Blvd. The hours of operation are Sun-Thurs 11a-4p, Fri & Sat 11a-8p.
Nikki Wright is the Chef and Owner of Black Swan Food Experience. As a native New Orleanian, she comes from a family rooted in Southern and African-American culinary traditions passed down from generation to generation. With a decade of experience working in kitchens throughout New Orleans- from casual fine dining, to gastropubs- Chef Nikki seamlessly weaves her love for Thai and Afro Caribbean cuisines with her own heritage, creating unique flavor profiles that celebrate ingredients such as okra, avocados, coconut milk and pecans.
General Manager, Shana Turner brings over fifteen years of community activism, and organizational development to building the infrastructure of Black Swan, with values that honor the community and cultural legacy that Black Swan belongs to.
Black Swan produces "Defiant Street Food"; defying myths by proving that New Orleanians do eat vegetables, street food can be produced and served with high quality, businesses can become successful while operating with integrity and respect to the labor and humanity of its employees and partners. Black Swan Food Experience defies the limited opportunities and resources afforded Black women to lead in the food industry here our great city of New Orleans.
---
WCWM FEATURED YOUTH: AMARU COME-UNITY HOMESCHOOLERS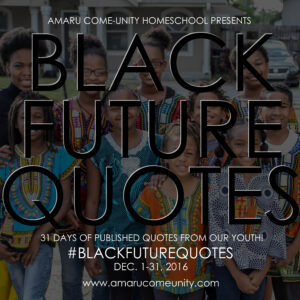 Starting December 1st and all December long, Amaru Come-Unity Homeschoolers will be sharing their very own quotes from their website and social media platform. Using the hashtag #BlackFutureQuotes, accompanied by portraits of their scholars and their quotes, Amaru will release a new quote each day in December. Amaru Come-Unity Homeschool is a grassroots homeschool based in New Orleans, Louisiana that is dedicating to nurturing the Black child; mind, body, and spirit. Founded by Director, Nicole Adams, Amaru is in its second year of operations and looking forward to the continued growth of young free minded children. Amaru scholars have been connecting with various community artists, activists, entrepreneurs, and educators throughout our city. #BlackFutureQuotes, in partnership with Cfreedom Photography, is one of the many projects the scholars have been able to collaborate with a local artist on. Stay tuned for Amaru Homeschoolers upcoming art show in collaboration with Artist Journey Allen and her project, Keeper of the Culture. Visit www.amarucomeunity.com and follow their social media pages @amaru_comeunity_homeschool to keep up with the latest happenings. We encourage you all to be of support to our youth everyday but make intentional efforts to support the Amaru Come-Unity Homeschoolers throughout the month of December, this Kwanzaa season and beyond. Donations, sponsorships, zawadi and volunteering are just a few ways to support. Find out more by contacting the homeschool. Thanks for helping to build the Black future of New Orleans.
---
NOVEMBER 2016 WCWM FEATURES
OCTOBER FEATURES EXTENDED
---
OCTOBER 2016 WCWM FEATURES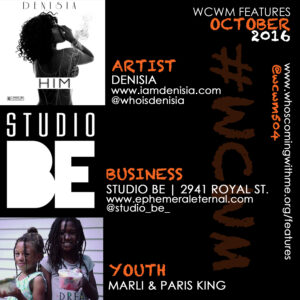 ---
WCWM FEATURED ARTIST : DENISIA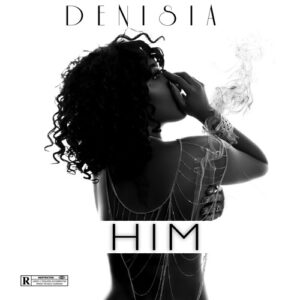 Singer/Songwriter DENISIA has been on the music scene for over a decade with her sexy, sassy, confident and angelic sounds, with catchy lyrics of love, life and happiness. DENISIA 's music will bring you through an eclectic collaboration of R&B, dance, pop, and inspirational sounds that crossover all genres.
Having opened for Lloyd, Tank, Melanie Fiona, Lyfe Jennings, Kendrick Lamar, Rickey Smiley and more, she was named BET's Music Pick of the Week and awarded a National Music Award for "Best New Female R&B/Pop Artist."
DENISIA is well known for the way she turned Adele's "Hello" song to a hit bounce song after teaming up with fellow New Orleanian, Big Choo, known as the "Voice of the Beat" and DJ Blaza, one of the biggest bounce producers in New Orleans. DENISIA's version of "Hello" has reached over 3,000,000 views and has been featured on all local media outlets as well nationally known social networks.
Currently, DENISIA is up for 3 nominations, (Best Female R&B/Pop/Soul Artists, Best Song, Best Live Performer), at the 2016 Nola Music Awards happening on October 22 at the Saenger Theater. You can vote on www.thenolamusicawards.com. She has released a NEW Album called HIM, which is now available for purchase and download on all digital music sites.
Visit her website at www.iamdenisia.com (click her picture) and follow her @whoisdenisia.
---
WCWM FEATURED BUSINESS : STUDIO BE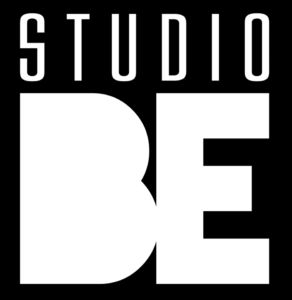 Studio BE, located at 2941 Royal St. in the Marigny-Bywater area of New Orleans, is a 35,000 sq. ft. warehouse that artist, Brandan "B-MIKE" Odums houses his first solo art show called Ephemeral Eternal. This is the third and final exhibition in the BE series. Visit www.ephemeraleternal.com and www.brandanodums for more information. Also follow @studio_be_ and @bmike2c for more information.
---
WCWM FEATURED YOUTH : MARLI & PARIS KING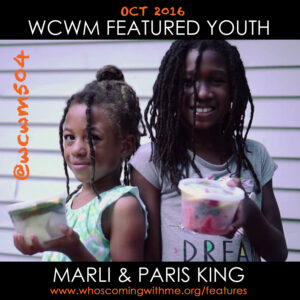 You may have seen them around the city, supporting Black businesses, selling froot bowls, or even in #DatBlackPower video but Marli and Paris are amazing children with huge hearts and talent. They can sing, dance, and they are young entrepreneurs in New Orleans. Marli and Paris are sisters and best friends. They are @amaru_comeunity_homeschool students and our #NewOrleans community just can't get enough of the joy they bring to us whenever they are on the scene. Please be sure to show them some love every time you see them. Abundant guidance, support, and protection to these two young Queens. They not only represent @mannieking9 and @frootorleans but also New Orleans. It takes a healthy village to raise healthy children.
---
SEPTEMBER 2016 WCWM FEATURES
Mykia Jovan is a native singer/ songwriter with an eclectic sense of sound. She shifts into genres seamlessly. Her honest lyrics and penetrating emotion captivates everyone in earshot. She has opened and performed with New Orleans legends Kermit Ruffins. Irma Thomas, Christian Scott, Irvin Mayfield, Big Sam Funky Nation and many others. She is also the featured vocalist for Aunjanue Ellis' character in the award winning film "Of Mind and Music. Her intention in every performance is to honor the God inside waiting behind everything we are not.
Follow Mykia on social media @mykiajovan and her website www.mykiajovan.com. Also catch her performing with a live band, every Sunday night 7:30-10PM at Blue Nile on Frenchmen St.
---
WCWM FEATURED BUSINESS : AMARU COME-UNITY HOMESCHOOL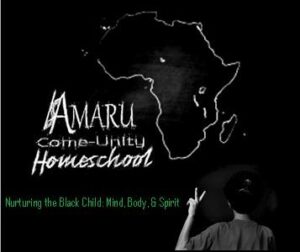 ---
WCWM FEATURED YOUTH : DARIELLE STEWART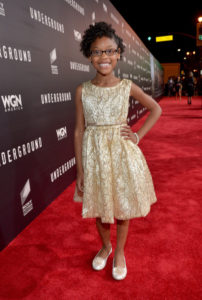 Darielle Stewart was born in New Orleans, Louisiana. When she was only two, Darielle would wake her mother up with her sweet little voice singing the most beautiful songs that she would make up on her own. At the age of four, Darielle's natural desire for the spotlight was noticed. She told her mother that she was a star & she would be on TV one day.
Just days before her seventh birthday, she booked her very first audition, a lead role in Disney Palace Pets, as the voice of Lilly. Soon after, Darielle had her first television audition and booked the lead role of Boo on Underground. This was just the beginning for the talented cutie. She has since appeared on Jimmy Kimmel Live several times in his original comedy skits and is also currently in a national McDonald's commercial and the Disney Dream Big promotion.
Darielle recently moved to Los Angeles to contine pursuing her acting career. You can follow Darielle Stewart on social media @dariellestewart and on her website www.dariellestewart.com.
---
AUGUST 2016 WCWM FEATURES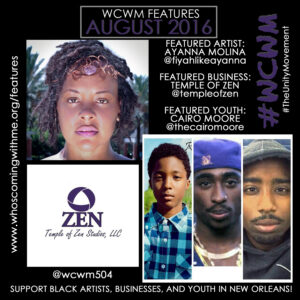 www.whoscomingwithme.org/august-wcwm-features
ARTIST - AYANNA MOLINA www.truelovemovement.com @fiyahlikeayanna
BUSINESS - TEMPLE OF ZEN www.templeofzen.com @templeofzen
YOUTH - CAIRO MOORE @thecairomoore
---
JULY 2016 WCWM FEATURES
ARTIST - MONICA MCINTYRE www.monicamcintyremusic.com
BUSINESS - BLACK STAR BOOKS & CAFFE @blackstarnola
YOUTH - STAY TRUE @staytrue_25_8
---
JUNE 2016 WCWM FEATURES
ARTIST - MONICA MCINTYRE www.monicamcintyremusic.com
BUSINESS - BLACK STAR BOOKS & CAFFE @blackstarnola
YOUTH - STAY TRUE @staytrue_25_8
---
MAY 2016 WCWM FEATURES
ARTIST - YAHJAH www.yahjah.com @yahjah_
BUSINESS - HAPPY VILLAGE KIDS www.happyvillagekids.com @happyvillagekids
YOUTH - BERNEISHA HOOKER @naturallynappy_ www.gofundme.com/berneishatohoward
---
APRIL 2016 FEATURES
ARTIST - DJ REBEL @irebel_god
BUSINESS - TRUE LOVE MOVEMENT www.truelovemovement.com @truelovemovement
YOUTH - DEVIN WASHINGTON