ABOUT House NOT For Sale NOLA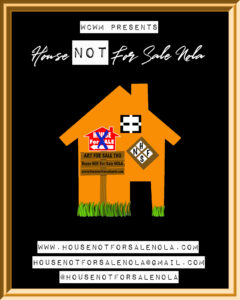 House Not For Sale Nola is a WCWM: Who's Coming With Me initiative dedicated to fighting against gentrification, the displacement of Black New Orleans native artists, and the loss of historic Black spaces.
Using the power of Black art, artists, businesses, and youth, HNFS Nola will host bi-annual virtual and online house art exhibitions and film screenings that raise awareness and funds towards supporting Black New Orleans native existence in New Orleans.
One key component of HNFS Nola is to turn a featured Black New Orleans native artists home or space into pop-up indoor and outdoor art shows.
In addition, we will host educational info-sessions, panels, and workshops on ways the New Orleans community and beyond can come together to reduce gentrification in New Orleans and create more sustainability for Black New Orleans native artists as well as historically Black spaces in New Orleans.
Curated by a team of multi-generational and multi-disciplined artists, and prioritizing artists and spaces in more immediate need, House Not For Sale Nola will use art and community as a weapon of empowerment against the current inequities that exist within New Orleans's housing and economics systems for Black people.
Together we can make sure Black New Orleans native artists and historic Black spaces in New Orleans do not become extinct.
Consider making a donation to our Go Fund Me campaign or via Cash App $WCWM.
As always, thanks for supporting Black artists, businesses, and youth in New Orleans.
ASANTE SANA TO OUR SUPPORTERS
As of September 25, 2020, we have raised approximately $2,200.00 between our donors, art, ticket, food, and merchandise purchases. We are still actively fundraising and will be updating our supporters list throughout our fundraising. We hope to add your name to this list. The attitude of gratitude is what we are here to share with you all.
House NOT For Sale NOLA t-shirts
Featuring the Woforo Dua Pa A is an adinkra symbol that means support, encouragement, cooperation. This is one of the windows in the House NOT For Sale logo. We thought it would be fitting to be the lapel design for our t-shirts, placing the support symbol right on the hearts of our supporters.
We are selling our t-shirts as part of the fundraising effort for HNFS Nola. T-shirts are from $20-$50. Visit WCWM Marketplace to select which t-shirt you want to represent with.
Thanks in advance for the support.
Home Is Where The HeART Is
Created and photographed on the 7th anniversary of Hurricane Katrina, Home is Where The HeART Is a love note to New Orleans. This photograph by Cfreedom Photography is one of the many fundraising art pieces that's for sale as a fundraising effort towards House NOT For Sale NOLA. Prints and framed art work now available on WCWM Marketplace.
TICKETS ON SALE NOW 9/12 & 9/13
On Saturday, September 12 and Sunday, September 13 12-7pm, House NOT For Sale Nola is hosting its 1st pop up art fundraiser w/ Art by Bryan Brown & Cfreedom Photography. Scheduled visits & virtually.
Art exhibition visits are scheduled hourly with 5-7 people per hour.
Book your scheduled hour visit or book an entire hour with you and your family and/or friends.
Art exhibit will also be available for viewing virtually.
Art for sale online at
WCWM Marketplace
.
Purchase tickets here.
House NOT For Sale NOLA #1 launch was a success. We have created our first model of what will become a new way of generating support and awareness for Black New Orleans native artists and historically Black spaces. Using 360 camera technology we created a virtual tour of the spaces. We had our digital photo booth from Cfreedom Photography poppin'. We hired youth as a part of the documentation and curation team.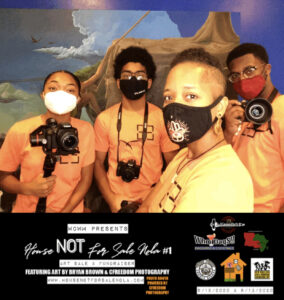 Even the news covered our event and story, however the coverage of the hurricanes prevented it from airing. Luckily for us, we are our own documentation team and we are working on getting you a video about our work and mission really soon.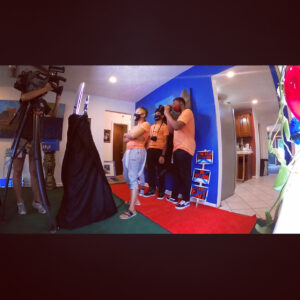 We had an elder join us and lead in a planting manifestation of our Must-Believe Tree (loquat aka japanese plum aka misbelief tree).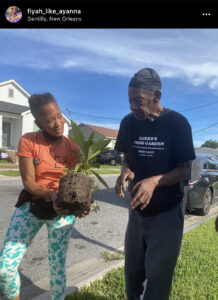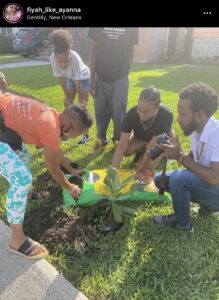 We curated a great showcase of art for sale and shared Black New Orleans native stories during our tours. Though we did not sell as much on the opening weekend, we did generate over $1200 between donations, ticket sales, food sales, shirt sales and art sale.
We also raised interest and awareness of the necessary work of Black people not selling of family homes and maintaining as much property for each generation to come.
We are still fundraising and plan to keep the space opened for limited time scheduled tour visits of the space. We want to show and tell you stories of Black New Orleans native homes as a way of making sure we don't become extinct.
Schedule your limited time scheduled tour visit of House NOT For Sale NOLA #1. Purchase art at the exhibit. Proceeds go towards purchasing a Black New Orleans native's childhood home.
Stay tuned for our upcoming live stream panel conversation of Gentrification, Displacement of Black New Orleans native artists, and the loss of historically Black spaces October 2020.