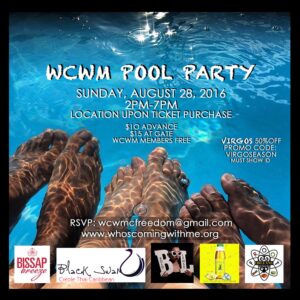 THIS SUNDAY Join us for the WCWM Pool Party 2-7PM! RSVP TODAY at [email protected] and let us know you plan to come. Space is limited! Purchase your ticket at http://buytickets.at/wcwmpoolparty/64027 . Receive location information upon purchase of your ticket(s). WCWM Members get in FREE! BECOME A WCWM MEMBER!  50% OFF for all Virgos. Just use PROMO CODE: VIRGOSEASON. Must have ID to verify.
We are featuring some your favorite Black businesses in New Orleans and if you don't know who they are then we are pleased to introduce you to them. Black Swan Food Experience is a pop-up foodie giving you the Creole Thai Cuisine with an extra side of Southern hospitality. Be sure to get your food fix with them as well as your fruit from Froot Orleans who will also be vending pool side.  Froot Orleans is a pop-up fruit stand located on Bayou Rd (across from Club Caribbean) weekdays 10am-6pm and popping up just about everywhere people need fruit in the city. Also we will have local beverage companies Bissap Breeze and Yimalade as our featured drinks (non-alcoholic and mixed). And to keep us fly in the sunshine we will have local glasses company Bold Lense vending with their various pairs of stunnas (sunshades).
Help us spread the word! Follow us on instagram at @wcwm504, @ujamaadirectory504 and on twitter @ujamaadirectory! Follow our featured businesses on instagram @bissapbreeze @blackswanfoodexperience @boldlense @yimalade and @frootorleans. Thanks for the support!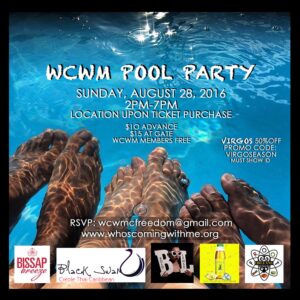 SUNDAY
AUGUST 28, 2016
2-7PM
RSVP: [email protected]