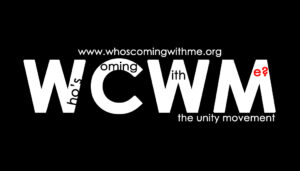 WCWM: Who's Coming With Me, LLC is a unity movement that supports and creates Black artists, businesses, and youth entrepreneurship in New Orleans. Founded in 2011 as a Stop The Violence movement, WCWM made the conscious decision to become more solution orientated and has evolved into a Unity Movement & business in August 2015.
WCWM is about relationship building as a means of becoming more interdependent within the New Orleans Black community. It is a solution toward ending the violence, poverty and criminalization that many of our inner city youth too often fall victim to. It's about providing businesses and artists with the support they need to continue to grow and employ young skilled workers at living wages.
WCWM promotes investing in young aspiring artists and entrepreneurs through mentorship from established and skilled artists and entrepreneurs within the Black community.
"Together we can be the change we want to see in New Orleans. All I wanna know is, Who's Coming With Me?"
EVERY MONTH, WCWM FEATURES A SELECTED ARTIST, BUSINESS, AND YOUTH IN NEW ORLEANS. PLEASE SHOW THEM SOME LOVE AND SUPPORT BY LIKING THEIR PAGES, FOLLOWING THEIR WORK, DOING BUSINESS WITH THEM AND EVEN MAKING A DONATION IF YOU CAN. THANKS IN ADVANCE.
DC PAUL
DC is a millennial actor, comedian, host, creative writer, and performance artist born and raised in New Orleans. As a former student of NOCCA and Columbia Arts College, DC's talents have been showcased on various stages, screens, microphones, and publications around the country since the late 1900's. He began his career as a standup comedian in 2014. Since then, DC's comedic talents have been displayed at historic performance venues such as the House of Blues, The Carver Theater, and Tipitina's, as well as on local radio, tv, and live showcases. DC frequently hosts live events, that cultivate fun and friendly environments, even when heavy hearted subject matter is involved. His style of comedy relies heavily on pop culture observations, sociopolitical punchlines, life experiences, and witty wordplay.
TRUE LOVE MOVEMENT
It is that time again! True Love Movement presents...Womanifest 8: Infinity for Black August. Womanifest 8 is 8.26.17 from 12-8pm at Tekrema Center for Art and Culture (5640 Burgundy St NOLA 70117).For those who know all about Womanifest, WE CAN'T WAIT! For those who do not know yet, Womanifest is an annual festival (this is the 8th one!) dedicated to the celebration and GROWTH of Black women. ALL are invited to take part in the celebration, to learn and heal through our community facilitated workshops, to listen to our phenomenal keynote speaker, to enjoy the gifts and talents of our performers and to spend money with our Black women owned/operated entrepreneurs/vendors. Take some time to celebrate ourselves, our mamas, our sistahs, our partners, our daughters, our friends! Womanifest is a celebration of the power of the Black Woman + Manifesting her dreams! Woman + Manifest? Womanifest!Why Infinity? Infinity is unlimited extent of time, space, or quantity. NO LIMIT! Let us all see Womanifest find it's place in the unlimited!Be there and please share! For more info on True Love Movement or Womanifest visit www.truelovemovement.com and follow them on instagram and facebook @truelovemovement.
AZANA OLUSOLA
Azana is the daughter of Backyard Gardners Network founder, Jenga Mwendo. Azana is currently raising money for a trip to London to expand her visual art and photography skills. She is selling cupcakes once a month at the ReFresh Market in front of Whole Foods. She has been baking for about two years and has participated in two baking summer classes. Some of the her products include red velvet & chocolate cupcakes, funfetti cake, cookies, and more. The prices are $2. Follow her on facebook www.facebook.com/cakemachinenola and instagram @cakemachine_