WCWM : WHO'S COMING WITH ME (aka THE UNITY MOVEMENT) is a business dedicated to supporting and uniting Black artists, businesses, and youth in New Orleans. Founded in 2011 as a Stop the Violence Movement, it wasn't until 2015 that WCWM became an official business and made a transition into a UNITY MOVEMENT. This was an intentional step to becoming more solution orientated.
WCWM is about relationship building as a means of becoming more interdependent within the New Orleans Black community. It is a solution toward ending the violence, poverty and criminalization that many of our inner city youth too often fall victim to. It's about providing businesses and artists with the support they need to continue to grow and employ young skilled workers at living wages.
WCWM promotes investing in young aspiring artists and entrepreneurs through mentorship from established and skilled artists and entrepreneurs within the Black arts and business community, while intentionally staying connected to young people so they will have the proper tools that are need to guarantee successful futures.
"Together we can be the change we want to see in New Orleans. All I wanna know is, Who's Coming With Me?"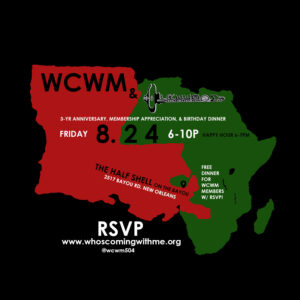 WCWM 3YR ANNIVERSARY DINNER
We made it to three years and we couldn't have done it without our community support and especially our WCWM Members. That's why we want to break bread with the community and especially celebrate our work and our Members with a "Member's Appreciation Dinner" at The Half Shell on the Bayou, Friday, August 24, 2018 6-10PM. Dinner is FREE for WCWM Members with RSVP. Not a member, no problem! You can become a WCWM Member today or even at the dinner. Free and open to the public. Click the link and RSVP. See you then.
Each month, WCWM features a New Orleans artist, business, and youth. This is an effort to intentionally connect these three strong groups, recognize their positive contributions, and also to expose others to their works. This month we are proud to feature ARTIST | CFREEDOM, BUSINESS | BRAVEHEART FOUNDATION, and YOUTH | E. JAMES THE DON. Click the FEATURES link and learn more about our features.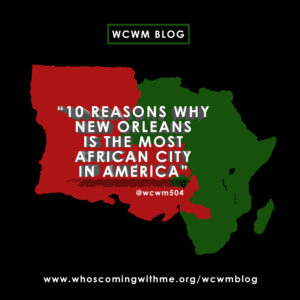 10 REASONS WHY NEW ORLEANS IS THE MOST AFRICAN CITY IN AMERICA
New Orleans is the most African city in America. How do I know? Well, I'm from New Orleans, I'm a descendant of Africa, and though I haven't been to Africa or many other places in America to compare, I know because I can feel it in my spirit. It's in my DNA. And I knew it before I took my DNA test. Or before my father and son took theirs.
You know the saying, "I wasn't born in Africa, but Africa was born in me?" Well, that's how my dear, New Orleans makes me feel about my love, Africa. I have a few theories and historical facts to support my spiritual feelings. And I'll share a few suggested readings and links at the end of this article too. I think this is a worthwhile subject to generate conversations, conjure spiritual awakenness, and spread history on.
CLICK HERE FOR FULL ARTICLE.
THE ESSENCE OF N.O.W. : A SHORT FILM
WCWM : WHO'S COMING WITH ME is currently producing its first short film. Produced in partnership with WCWM member, CFREEDOM PHOTOGRAPHY and in celebration of New Orleans women, this is one of many upcoming film projects dedicated to WCWM's mission of supporting and uniting artists, businesses, and youth. Visit www.theessenceofnow.com to LEARN MORE about this upcoming film production.
Interested in becoming a producer, sponsor, or being featured in this production, ask about how via theessenceofnow@gmail.com. We are in the process of finalizing this production and will be releasing it late 2018. Stay tuned for more information on this exciting upcoming event. Check out a few of our WCWM Members below! Become a WCWM Member and learn how you can support them and receive discounts on select products and services.